This is Jeanette M. Andersen, our YWPDK profile for May 2015. Jeanette is a Project and Development coordinator at Herning Vand.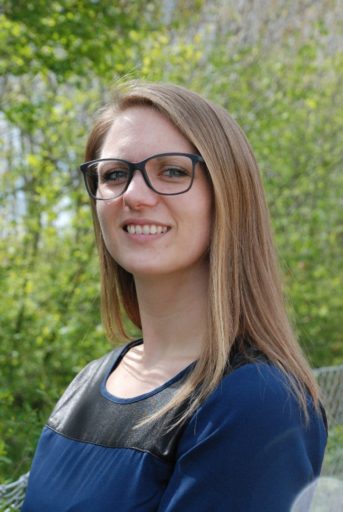 What is your current work title and what is your background/degree?
I am employed in Herning Vand as Project and Development coordinator. Before my current employment I worked for Herning Vand in a mentoring arrangement during my MSc. studies in Engineering. I graduated from Aarhus University with a MSc. degree in engineering in Technology based Business Development in July 2014. After graduating, I was permanently employed in Herning Vand.
What is your motivation for working with water?
Working on water development projects in collaboration with highly specialized and experienced employees in Herning Vand, consultant companies and/or research/educational institutions motivates me. Water – drinking water as well as wastewater – has great potential for development and innovation, from which the most synergy and benefit can be attained, when combining the knowledge and interest of the utility companies as well as the consultant companies and/or research/educational institutions.
What are your main interests within this field?
My main interest within the field of working with water is development and innovation. In Herning Vand I manage our effort on working with continuous improvements, which aims to bring up ideas and solutions for making work and processes more efficient. I believe that business development and working with continuous improvements in utility companies are important to enable Denmark to stay an influential player in the water arena of the World.
What was your motivation for becoming a member of YWPDK and how did you hear about the network?
I heard about the network when it was only an idea, from chief consultant in DANVA, Kristian Friis. I thought that such a network was a great idea, because I was still studying at that time and wanted to have a network within the Danish water industry, as large as possible. So, when I received the e-mail 1 year later with an invitation to become a member of the recently established YWPDK network, I signed up immediately.
What are your thoughts on the challenges that we, as young water professionals, face in the coming years?
In my opinion one of the challenges will be that within 5-10 years most of the highly specialized and experiences employees will be retired. Our challenge is, together with the rest of our organization, to convert their knowledge into knowledge embedded in the organization or in us. Furthermore, our challenge is to attract new young water professionals to the water industry. As YWPs, we have the best possibility to convince qualified students to become future water professionals, and show them that the industry is interesting and with job opportunities. Attracting future young water professionals is important to increase the interest in the industry and to be able to ensure the necessary further development.