This is Stefan Schmidt, our YWPDK profile for September. Stefan is Business Unit Director at NIRAS in the unit Water, Energy & Nature.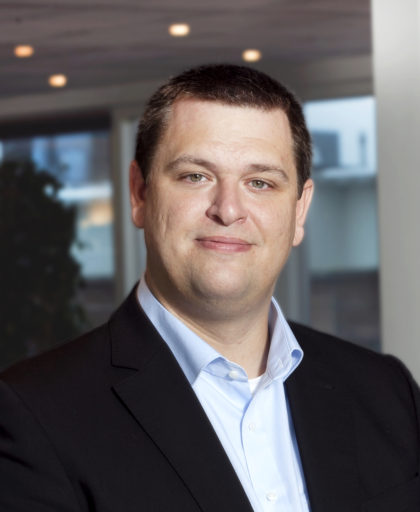 What is your current work title and what is your background/degree?
I am Business Unit Director at NIRAS for our unit Water, Energy & Nature. This is my second position with NIRAS, where I became Market Director in 2009. My educational background is Bachelor of Science in engineering which I later supplied with studies in business administration. You could state that my education in the water business already started when I was 10 years old. Back then I got my first part time job after school in my parents' contracting company, which specialized in contracting for the water sector.
What is your motivation for working with water?
Due to my family background, I have been in the water sector all my life. Before I came to NIRAS, I held different positions in three other companies, that all are in the water business.
My first challenges in the water business was when I as a young child started working in my parents' company, Vand-Schmidt. Now, at 34, I still have the right challenges. My job is challenging, and brings me a lot of excitement. I think that's my motivation. I have always been faced with the right challenges. It is a fascinating sector with focus on development and action.
What are your main interests within this field?
All things considered, innovation is the most motivating aspect to me; developing new processing technology and other technologies. Until recently, most utility companies did things as they have done for many years. Now things are changing rapidly. It's an industrialization process, where public utilities transform themselves to being state-of-the-art holistic businesses in just a few years. Water is now compared to food. Society has the same expectations to water as to milk. The expectation is that errors and mistakes should be located and fixed instantly. So, my main interests are how to help realize the industrialization process in practice and how to make sure that water always is as clean and healthy as any other foodstuff.
What was your motivation for becoming a member of YWPDK and how did you hear about the network?
I heard about YWPDK a few years ago through the International Water Association, and it motivated me that the membership gives us, in NIRAS, a possibility to network with colleagues from other companies and other countries. It is important that we expand our network.
What are your thoughts on the challenges that we, as young water professionals, face in the coming years?
We are looking at a general shortage of engineers in Europe that is already critical and will become even more critical in the coming years. In my opinion, we share the same challenge as young water professionals. In my unit, that is located in Aarhus, we have several openings at the moment which are not advertised. I know that the situation is the same in many other companies. One thing we have to focus on in the future is the importance of working transnationally throughout Europa and in that strengthening our European network. As YWPDK's it should be a natural task for us.