Søren Larsen works as an economist and consultant at DANVA. He has a MSc in International Economic Consulting (IEC) from Aarhus School of Business.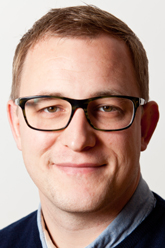 What are the greatest aspects of your job?
The greatest aspect of my job is that I am working for a good cause: water.
My job gives me the opportunity to go into depth with the topics that I am working on; there are high expectations to the professional level at DANVA, as we are delivering input for decision support for utilities, politicians and other stakeholders.
DANVA has for many years collected data from a broad range of utilities in relation to DANVA's benchmarking. This database makes it possible to carry out analyses that no other institution can do. It is very exciting to dig out the stories hiding behind all this information.
As an employee in DANVA I meet a lot of different people from all organization levels of various companies. Through this, I also hear many different stories, attitudes and challenges that are present in the companies. This enables me to differenciate and get perspective in my daily work, which I find extremely satisfactory.
The work in DANVA's secretariat is recognized for giving room for peoples opinions, and so I always feel free to speak my mind (which I do), even if I sometimes say something wrong (which I rarely do).
Your thoughts about working with water?
The product that the utilities provide, is supplied under what is defined as a "natural monopoly". That is – a product or a service, that all Danes can utilise at the same time, but only buy at a single provider. At the same time, the product is something that everybody needs and something that is important for the common health, the environment and the industry. We, that are working in the water sector, therefore have a great responsibility to deliver the best possible product both now and in the future.
Any advice for future water professionals?
Remember to always think ahead and be long sighted with regards to total economics and life cycles (also valid for non- economists!).
What are your thoughts on the challenges that we face as YWPs in the coming years?
In my opinion the greatest challenge is climate change. I believe that climate change will put an enormous pressure on the utilities' capacity, resources, need for qualified personell and further optimisation of all the processes in the utilities.