Intro session on Groundwater quality and pollution
2. March 2021 @ 17:30

-

19:40

CET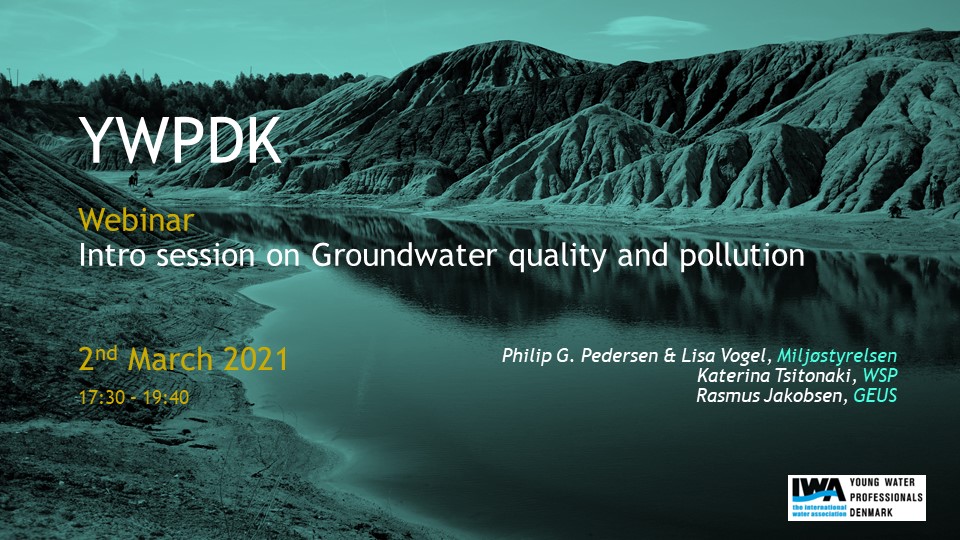 YWPDK would like to invite you to join an introduction webinar on the subject "Groundwater quality and pollution".
The webinar is an informative event with presenting representatives from the consulting industry, academia and authorities. The main purpose is to present the work that is being done in the field of groundwater contamination/quality, enlighten about the current situation in Denmark, challenges, needs and plans to mitigate contamination. The organizers hope to give an introduction to people in the water industry who are new to the area and to open an interesting dialogue between the different types of actors in this sector.
Date of the Webinar:  Wednesday, 2nd March, 17:30 – 19:40 CEST  
Platform: Cisco Webex
Webinar Program:
a.      Event starts at 17:30
b.      Introduction to the event (5 min) [17:30 – 17:35]
c.      Kahoot game #1 (10 min) [17:35 – 17:45]
d.      Philip Grinder Pedersen & Lisa Vogel, MILJØSTYRELSEN (25 min presentation + 5 min Q&A) [17:45 – 18:15] LinkedInLinkedIn
e.      Katerina Tsitonaki, WSP (25 min presentation + 5 min Q&A) [18:15 – 18:45] LinkedIn
f.       Rasmus Jakobsen, GEUS (25 min presentation + 5 min Q&A) [18:45 – 19:15]  LinkedIn
g.      Kahoot game #2 (10 min) [19:15 – 19:25]
h.      Q&A to all participants + larger final discussion [19:25-19:40]
i.       Closing remarks and networking [19:40]
Video recording:
Part I:     a, b, c, d.
Part II:   e.
Part III:  f, g, h, i.